Posted by Michael McGinnis. Written by Lauren Miller on 10th Oct 2022
Major Oil Field Equipment Manufacturer Saves 2x on Coating and 6x on Labor by Switching to Rust Patrol®
Background
The customer is a major manufacturer of blowout preventers (BOPs) and they currently use a product that prevents rust for forty-five (45) days, but is extremely difficult to remove and requires a wipe down with rags before sandblasting, or dangerous solvents are used to remove the remainder of the coating. The current product is very thick and is perceptible on the surface of the metal, meaning that it must be wiped off in order to see part numbers or to complete final assembly. It also does not penetrate into hard-to-reach places, necessitating more labor during application of the coating. Finally, the thick, viscous coating creates a slipping hazard when it gets onto the ground, creating an unsafe work environment for the employees.
Goal
The customer wanted products that can;
Remove heavy rust and mill scale from Sample A without abrasive blasting; and,
Protect equipment from corrosion for 60+ days in an outdoor storage yard, but does not require sandblasting to remove the coating.
"After just two months Rust Patrol was still protecting parts from rust."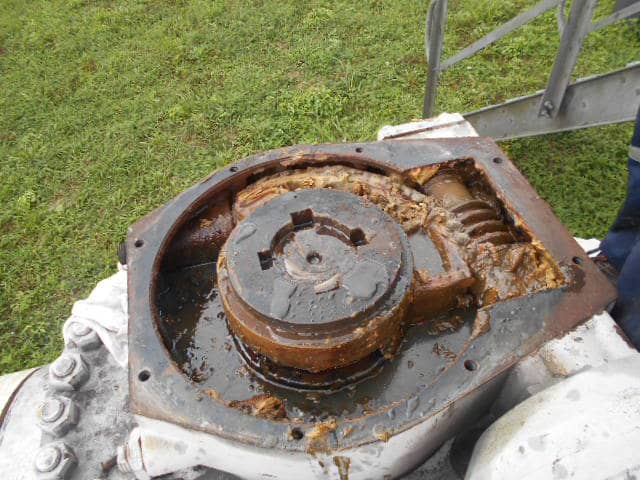 Solution/Results
The customer applied a complementary product to remove all rust to the molecular level. After application, it was left to sit for 24 hours, then Sample A was power washed, resulting in a clean surface with no corrosion on Sample A. After more than two months in outdoor storage, exposed to extreme weather, all surfaces coated with Rust Patrol® were rust-free. This result preserves the sample for future use without the need for expensive rust and/or coating removal techniques.
Additionally, the customer found that by switching products to Rust Patrol, they could use 10x less product due to the increased square foot coverage of Rust Patrol. As a result, they reduced their spend on coatings by 2x and reduced their VOC emissions by 10X. Furthermore, due to the easy-to-use nature of Rust Patrol, the customer found that they also saved 6x on the cost of labor. The previous coating required four hours to apply and eight hours to remove - a significantly higher labor burden than the less than one hour to apply Rust Patrol and less than one hour to remove Rust Patrol. Finally, the customer found that by switching to Rust Patrol, they could eliminate the need to purchase complementary products to remove the other coating (ex: rags used to wipe off excess product, etc.), as well as reduce their hazardous disposal costs by using less coating and eliminating the need for harsh surfactants.